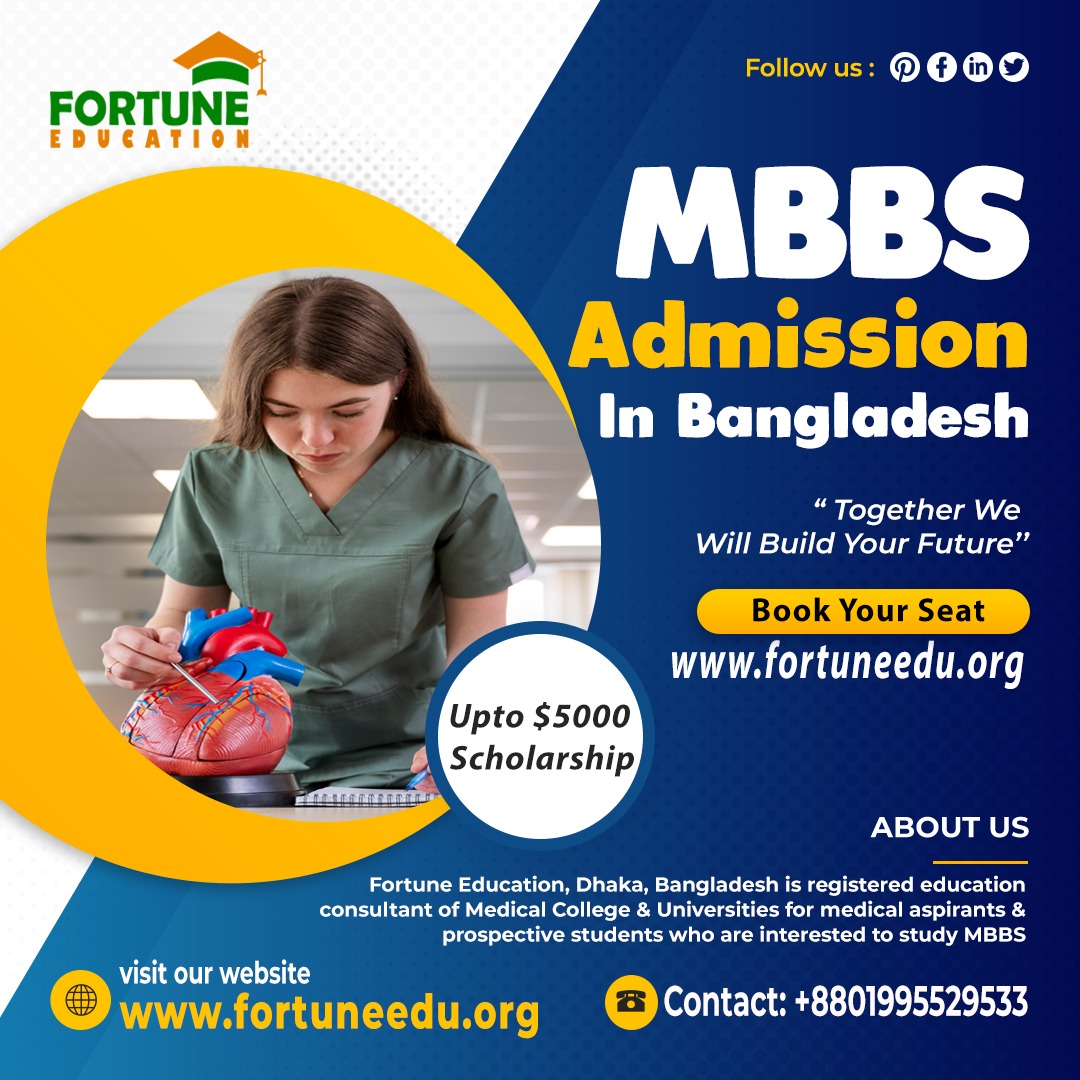 Fortune Education: Your Trusted Partner for MBBS in Bangladesh
MBBS from Bangladesh | Fortune Education
Since 1994, Fortune Education has been shaping the dreams of thousands of students, making it the pioneer educational consultant for MBBS in Bangladesh. Our unwavering content to student success, integrity, and personalized services have earned us an esteemed position in the educational consultancy domain.
Understanding Fortune Education
Established in 1994, Fortune Education has been devoted to offering comprehensive consulting services for students aspiring to pursue an MBBS degree in Bangladesh. We are a trusted partner, ensuring students receive accurate guidance, valuable insights, and reliable support throughout their admission journey.
Our collaboration with numerous esteemed medical colleges in Bangladesh enables us to provide students with a diverse range of choices. Moreover, our rich legacy of nearly three decades has endowed us with unparalleled expertise in understanding student needs, international education dynamics, and the latest educational trends.
MBBS from Bangladesh
Bangladesh is emerging as a favored destination for students aspiring to pursue an MBBS degree. The country offers globally recognized medical degrees, affordable education, high standards of living, and a culturally enriching experience. Most notably, the curriculum in Bangladesh provides students with substantial practical exposure, equipping them with essential real-world skills to succeed in their medical career.
The medical colleges in Bangladesh are recognized by international bodies such as the World Health Organization (WHO) and the Medical Council of India (MCI). This global recognition validates the degree obtained from Bangladesh and opens doors for lucrative career opportunities worldwide.
MBBS in Bangladesh Fees 2023-24
The fee structure for MBBS in Bangladesh is notably affordable compared to other countries, making it an attractive option for students. The estimated cost for the entire five-year MBBS program in Bangladesh, including tuition fees, accommodation, and other charges, ranges from USD 38,000 to USD 60,000. The exact fees may vary depending on the specific medical college.
It's advised to check the most recent fee structure on the respective colleges' official websites or through Fortune Education (www.mbbsbd.online), an authorized educational consultant.
Bangladesh MBBS Admission
The admission process for MBBS in Bangladesh is streamlined and transparent. Students need to fulfill the eligibility criteria set by the Bangladesh Medical and Dental Council, which generally include a minimum aggregate of 60% in Physics, Chemistry, and Biology in 10+2, and being over 17 years old at the time of admission. For Indian students, qualifying in NEET is mandatory to study MBBS in a foreign country.
Once the eligibility criteria are met, students can apply to the medical college of their choice. The documents required typically include mark sheets, school leaving certificate, passport, NEET scorecard (for Indian students), and others. Upon selection, students are issued an admission letter, following which they can apply for a student visa.
MBBS Colleges in Bangladesh
Bangladesh boasts several prestigious medical colleges offering top-notch MBBS programs. These colleges provide a conducive learning environment, experienced faculty, modern infrastructure, and comprehensive curricula.
Some notable medical colleges in Bangladesh include Dhaka National Medical College, Community Based Medical College, Bangladesh Medical College, Dhaka, Green Life Medical College, Dhaka, Jahurul Islam Medical College, and many more. These colleges welcome international students, offering them a chance to learn, grow, and thrive in a multicultural environment.
Partner with Fortune Education for a Successful Medical Career
At Fortune Education, we are committed to providing each student personalized guidance and comprehensive support to navigate their path to a successful medical career. From understanding the admission process and eligibility criteria to providing post-admission assistance, Fortune Education stands by every student, ensuring a smooth and rewarding educational journey.
Our students are our priority, and we leave no stone unturned to ensure their success. When you partner with Fortune Education, you can rest assured that you're in trusted hands. Join us today to take your first step towards a prosperous medical career in Bangladesh. Visit our official website www.mbbsbd.online to learn more.
MBBS Colleges in Bangladesh
2023-24 Admissions at Bangladesh Medical Colleges
The prospect of studying medicine in a different country, especially in a highly acclaimed region like Bangladesh, can be an exciting adventure. The country boasts an array of reputable medical colleges known for their academic rigor, research emphasis, and high teaching standards. As you gear up for the 2023-24 admissions, it is crucial to acquaint yourself with the admission process, eligibility criteria, and some of the top medical colleges in Bangladesh.
Understanding the Admission Process
The path to gaining admission into a Bangladeshi medical college combines several elements including academic accomplishments, entrance exam performance, and personal interviews. Prospective students need to possess a high school diploma with a minimum grade requirement. The admission process usually necessitates submitting an application with personal details, academic transcripts, and entrance exam scores.
The entrance examination typically consists of multiple-choice questions spanning subjects like biology, chemistry, physics, and mathematics. Some colleges also include a personal interview in the admission process. Upon completion of these steps, candidates await the result declaration. Successful candidates receive an acceptance letter and then complete the enrollment process, which often involves fee submissions and additional document furnishing.
It's crucial to remember that admission prerequisites and procedures can vary among colleges,7o researching your preferred medical college's specific requirements is essential. Staying updated with the latest admission process is also vital as it might change annually.
Eligibility Criteria for MBBS Admission in Bangladesh
While individual medical colleges may have specific eligibility criteria, some common requisites include:
Age: Applicants should be at least 17 years old as of December 31 of the admission year.
Educational Qualifications: Prospective students should have completed 10+2 or equivalent, with Physics, Chemistry, and Biology as major subjects, and have scored at least 70% marks in aggregate.
Entrance Exam: Many Bangladeshi medical colleges conduct entrance exams for MBBS admission. Some colleges also accept scores from standardized entrance exams like NEET.
English Proficiency: Since the medium of instruction in Bangladeshi medical colleges is English, students need to have good English language proficiency.
Financial Solvency: Students should be financially capable of covering tuition fees, living expenses, and other costs associated with studying MBBS in Bangladesh.
Remember to check your preferred college's specific eligibility criteria before applying. Consulting authorized educational consultants like Fortune Education can facilitate a smooth admission process.
Top Medical Colleges in Bangladesh
Here are some of the top medical colleges in Bangladesh that you may consider:
Army Medical College Bogura
Army Medical College Jashore
Islami Bank Medical College
Sylhet Women's Medical College
Diabetic Association Medical College
IBN SINA Medical College
Holy Family Red Crescent Medical College
Popular Medical College
 
This is not an exhaustive list, and Bangladesh boasts numerous other high-quality medical colleges. It's essential to conduct thorough research and compare colleges based on the curriculum, faculty, infrastructure, and placement opportunities before finalizing your decision.
Foreign Students Admission at Army Medical College, Bogura (AMCB)
We are delighted to announce that foreign students meeting the eligibility criteria as per the Bangladeshi government guidelines can apply for admission at Army Medical College, Bogura (AMCB) for the 2022-2023 academic year.
Interested students can contact Fortune Education & Fortune Healthcare Ltd., the only authorized representative of Army Medical College, Bogura, to facilitate the admission process, including attestation of documents, processing of eligibility certificates, visa guidance, and airport pickup-college drop services.
Fortune Education & Fortune Healthcare Ltd. Head Office: 23/C, Zigatola, Dhaka-1209, Bangladesh Bangladesh: +8801995529533 India: +919903355537 Email: fortunebangladesh@gmail.com Website: www.fortuneedu.org
Bangladesh's medical colleges offer an excellent opportunity for aspiring doctors to experience top-notch education coupled with practical exposure. With a rich blend of tradition and modern teaching methodologies, an MBBS degree from Bangladesh can set the stage for a successful medical career. Embark on your journey today with Bangladesh's top medical colleges and realize your dream of becoming a doctor!